Greater Noida is a rising real estate micro market of Noida in UP. Though the property value overall in the Delhi NCR region has been on an uptrend at here still under reasonable price tag, it still makes a good sense in investing in residential property in Greater Noida.
Greater Noida residential projects have thrown the property market into a tizzy as prospective home buyers have so many best options to choose from. In a comparison of other regions of Delhi NCR like Gurgaon and Faridabad, infrastructure is the biggest advantage here with the whole thing well planned and with well maintained wide roads, a range of reputed schools & colleges, hospitals, mall and commercial sectors in place.
Infrastructure developments in Greater Noida
Jaypee Formula 1 racing track
Night Safari
Education Hub as knowledge parks
Upcoming Jewar International Airport
Metro Train
Noida Greater Noida Expressway & Greater Noida Expressway
At here salaried class can choose 2 & 3 BHK apartments and individuals with deep pockets can buy luxury apartments, villas, and floors by many reputed real estate developers. Yet out of these developers, one name that stands out is Godrej Properties which has one of its premium township "Godrej Golf Links" at Sector 27 Greater Noida, this township also contains one of the best residential projects in Greater Noida. With its elegant architecture and design and every possible comfort, a world-class standard of living and convenience are here for every resident.
People who are looking for the best residential option in Greater Noida can't be a failure with their choice of investment at here. The city has everything that one needs to lead a contemporary and sophisticated life. Let's elaborate the residential projects in Godrej Golf Links Township.
Godrej Park Avenue
Godrej Park Avenue is a residential project of 3 & 4 BHK Apartments in G + 7 storey towers, overlooks the green surrounding or 9 hole golf course. This residential project is planned with low rise residential towers with high rise luxury. One-of-its's-kind landmark structures, Godrej Park Avenue Apartments are poised to redefine the skyline of Greater Noida. Conceived to be mesmerizingly green, it is decorated with world-class amenities and an exclusive living experience.
USP's of this residential community are:-
Godrej The Suites
"Godrej The Suites" in Godrej Golf Links Sector 27 Greater Noida is only planned for the people looking for compact size luxury at a very reasonable price. This high rise development in this 100 acres of the township is spread over wide acres of land and comprises 3 high rise towers of Studio & 2 BHK fully furnished Apartments equipped with basic home appliances and branded fittings & fixtures at a very competitive market price.
USP's of this residential community are:-
Godrej Evoke Villas
Godrej Properties luxurious 4 BHK Villas in Godrej Golf Links as Evoke Villas are sure to leave you spellbound with their lavishness and green surroundings that are decorated with diversified greenery. Slanting roofs, extensive verandas, and green & open outdoor spaces are the main attraction of these villas that are bound to magnetize the taste of the modern home buyers. Bring the best of luxury living with Godrej Evoke Villas properties in Sector 27, Greater Noida.
USP's of this residential community are:-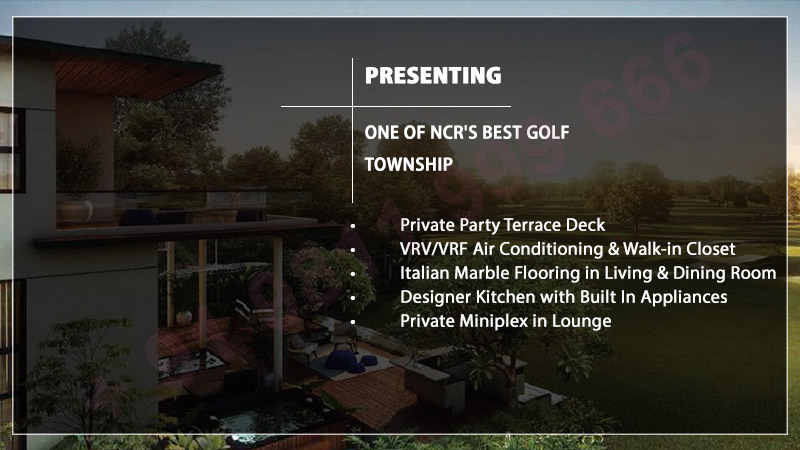 As we mentioned earlier, property price in Greater Noida still under reasonable price tag with world class infrastructural development, therefore this region has registered more are more NRI real estate investment. And according to the real estate experts, with high-value infrastructure development lined up the property rates are going to rise anytime will present much higher appreciation in comparison of other regions in NCR, where the property value has already touched the threshold.