Indian Rupee's slide against the US dollar seems to be motivating NRI's living in the in Hong Kong, the US, and the UK to further invest in their motherland, with slighter dependence on money, according to a survey performed by real estate experts. Derived from the reaction of about 15,000 NRIs, the survey showed that approx 42.34 percent of respondents refused requirement for the loan to buy property in India.
This research also revealed that a rise of approx 17 percent was observed in NRI real estate investors only for investment point of view rather than an end user. On the other hand, investment is a life-long concern and the individual has to consider every point carefully before taking the plunge. For all NRIs, a Residential property in India should be the main concern, in spite of any other options. And the best thing is that the current low value of the rupee offers extra benefits to NRI's. So, if any NRI has a continuing payment obligation for real estate, they will compensate less money for the same residential property.
On the other hand, real estate developers are beforehand ready for this upcoming demand of NRI's and they launched many luxury residential projects in the main cities in India like Delhi, Gurgaon, Pune, and Mumbai etc. If we talk about especially Gurgaon Real Estate, there are many world class residential projects offering international style luxury, for example, M3M Golf Estate a 7-star luxury project located at Sector 65 Golf Course Extension Road, offering 3, 4 and 5 BHK Duplexes & Penthouses with best features to attract more & more NRI Investors:-
rooftop jogging track
"VIP" club house
9-hole reversible golf course
just 2 flats to a lift core
No two apartments are back to back
ome penthouses are even 4-side open
hard-wood flooring in all bedrooms
high ceilings and 9 ft tall windows
6-11 ft wide running balcony with wooden deck and glass handrails
modular kitchen with appliances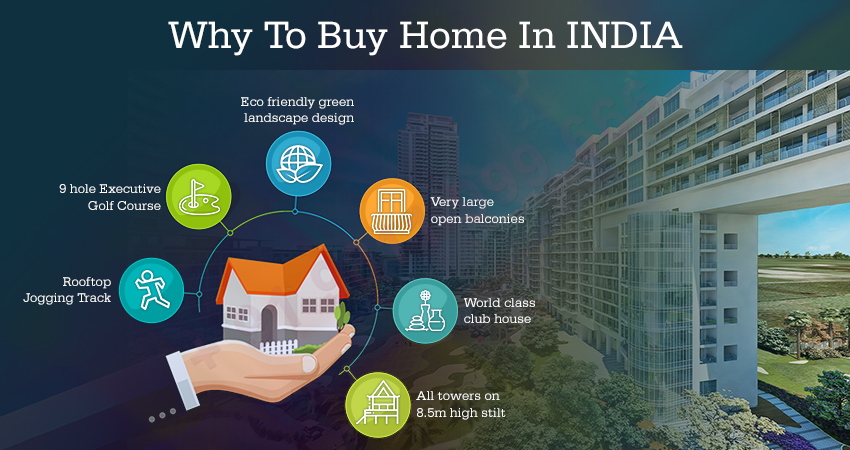 If we talking about any popular investment destinations in India, Mumbai (approx 16 percent), Bangalore (approx 11 percent) and Chennai (approx 9 percent) grabbed the top three position, following by other cities like Delhi NCR, Pune, Coimbatore, Ahmedabad, and Goa etc.  The added downfall in the Indian currency combined with a spate of regulatory reforms seems to be motivating NRIs to Invest in Indian real estate without any hesitation. We observe awareness bouncing back as NRIs are not only fond of purchasing a residential property in their native land but have also shown an amplified importance in buying purely for investment point of view.
This survey also revealed that approx 28 percent of NRIs are interested in investing in residential properties with the price range of Rs. 7 Crore to Rs. 20 Crore, on the other hand approx 46 percent were interested in residential properties ranging from 2 Crore to 8 Crore. And only little number of NRI's are seeking home to Buy a home in India.