Indian real estate is something with which majority of the population have large hopes. It is not like Indians are involved in this sector but instead, people from far across the globe are coming over here to check their potentialities and luck. Not only the residential sector but the corporate and the office occupiers are getting a boost about the market that this sector has something much more in the coming time to offer. It will not be confined to limited zone and especially with the transparency and clearing efforts that the government has made the sector has entered into the eased zone. Impact of RERA on Developers is seen in all these terms as well.
Well, it is worth to say that the corporate sector and the top-notch MNC's have fetched lots of importance and has improved tremendously well from the overall planning and the business perspective. India is the largest supplier of employees, I mean that it is the largest office markets which are emerging more and more confident about the real estate and providing the best corporate and offices and in the coming times is surely going to avail more from Indian real estates.
Hence for this some now commitments to have been made in the following ways.
1. Increasing the speed of Pre- commitments:
Well, there are some of the pre-commitments in the office space in NCR market that are pending, while on that the big and international MUC's are coming up grabbing more and more benefits. It is very important for the pre-commitments to work on to optimize the needs well. It is important for them to complete and work before jumping on other projects. This is one of the Tips for First Time Home Buyer as well that first checked the builder's pre-commitment fulfillments.
2. Buying should be more than renting:
Corporate sectors should be looked at the vision of long-term investment and this is a step of growing in this sector that rather than renting or leasing the property it is better to buy it. Buying a property is always done for the long-term viewpoint and also add different benefits with it. There are number of properties in NCR that were on rent and now relocating facing tremendous loss because in this way you break your regular customers as well.
3. Corporates extending the lease terms:
This is one of a trends in the corporate sector that the corporates are extending the lease term from 9 years to 12 or 15 years in contract. Through this they can secure the occupational rights for longer duration and protecting themselves against upsurge in market rents. This will benefit the corporate space and the rent payers will be relaxed.
4. Building more agile workplaces:
See earlier it was not focused but now it is one very important aspect that your workplace should be designed in a way that it itself speaks of the business. The occupiers are now working more with the vision and culture of employees and their growth. Alos it is important as well. It is now good to collaborate the space more with the office and making it an enthusiast space.
5. Technology advancement and vibrant working environment:
Being open to employees is important for the boss to correlate to them and to their work. Similarly, it is very important to give the vibrant working environment to the employees and the good use of technology so that their work can be more transparent and efficient. Also with this openness they will feel a sense of belongingness with the work and office. Kalpataru Vista Noida is like one residential option that shows the multiple benefits under one roof making it favorable from multiple terms.
6. Working in partnership:
Working in partnership is gaining attractions these days and now doubts that it is not confined till the residential sectors only, in fact, many corporates are also partnering with the co-working brands to avail the best possible returns and relaxation in multiple fields. In this case the occupiers and the renters both will adjust on their own terms and divide the benefits as per the share.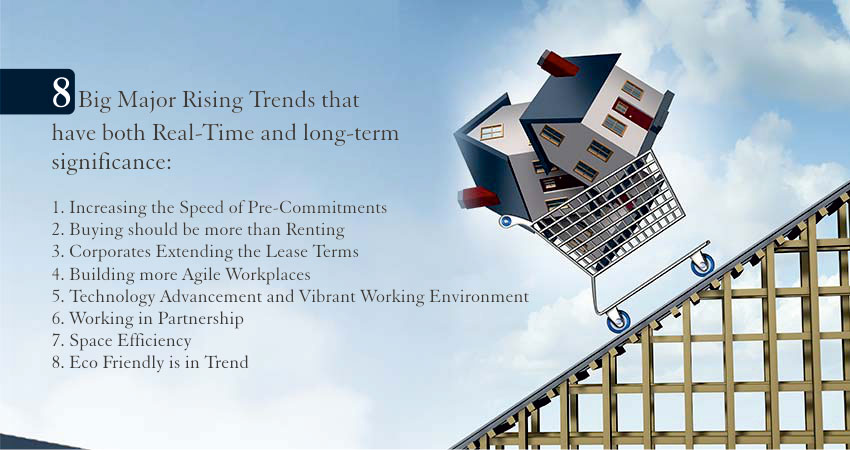 7. Space efficiency:
One very smart move of corporates is consolidating multiple offices in a single office to achieve space efficiencies. Through this the rents will be saved and also through this the corporates have achieved 40-50% savings. Though this they can save in their operational cost and employee satisfaction and overall enhance their benefits only. Well if giving little example on space efficiency then Experion The Heartsong, Ireo Victory Valley Gurgaon, Godrej Meridien Gurgaon etc. are worth to mention.
8. Eco friendly is in trend:
Apart from residential eco- friendly spaces, the corporated are looking for the green and smart buildings that provides multiple facilities under one roof and overall greenery in the vicinity of the serene environment. They are looking more for infrastructure, last mile connectivity, rich landscape, optimal energy footprints, etc.
Concluding all it is worth to say that the corporate sector is become more functional and extremely interesting in adopting the technologies that can advance the operation and benefits their business. Corporate sectors are now trying to gear up with the best possible strategies. The office leasing, NCR office market, co-working brands, co-working space are now joining hands with co-working brands to avail some new things and advancements like attractive design, flexibility in lease terms, and vibrant environment for employees. Somewhere it is important to understand that you need to look at the base as well.