India's reputed name in the real estate field DLF and Singapore's sovereign wealth fund GIC will invest about Rs. 1,250 Crore in the next four years for a Residential project in Delhi NCR.
This joint venture between two reputed firms also allow flexibility in the business opportunity for the both, in which it can sell completed, rent-yielding commercial developments to the JV or makes commercial assets for the JV or sell land banks allocated for commercial development in the next few years.
2 or 3 years back, The GIC had investment approx Rs. 2, 000 Crore and acquire 50% share in DLF's for the upcoming residential project at Shivaji Marg, Moti Nagar New Delhi. This reputed real estate developer had entered into a JV with GIC for DLF Midtown in Moti Nagar, New Delhi, having total development perspective of around 7 million sq. ft.
As a part of DLF Capital Greens, this residential project (DLF Midtown on Shivaji Marg) provides a range of facilities & convenience for the residents like grand clubhouse, swimming pool, play area for the kids, gymnasium, and green open land offering a luxurious and fresh lifestyle.
DLF Midtown New Delhi also will be the best example of green development thanks to the initiatives taken by DLF like Solar lights for the common areas and wastewater management & water is being recharged for the irrigation of plants & trees within the community. A rainwater harvesting system has also been installed to decrease the dependability of fresh water for other uses.
According to the different sources, this JV has started their work on the first phase of this residential project that comprises approx 2.5 million sq. ft. the saleable area with the investment amount of Rs. 1,250 Crore. But on the other hand, DLF Spokesperson refused to give any statement on the matter.
According to this new business model of JV between DLF & GIC, DLF will open sale of units in this residential just after it receives OC from the concerned departments. So, the DLF Group expects to sell units in this residential development for approx Rs. 20, 000 per sq. ft.
As we mentioned earlier that DLF Midtown Central Delhi is a part of 38 acres of Residential Development in Moti Nagar, acquired by DLF in 2007 from DCM Shriram and Lohia Group.
DLF Group, on its own, has development and sold out approx 2800 residential apartments in 2, 3 and 4 BHK configuration in 3 phases of DLF Capital Greens New Delhi, where about 1,500 units are reserved for EWS class.
This real estate developer had launched the first phase of DLF Capital Greens in 2010 at the price of Rs. 4,500 per sq. ft. and the current market price of this residential project is approx Rs. 17,000 per sq. ft. in resale.
Despite the many successful residential projects of DLF in Gurgaon  like DLF Crest, DLF Park Place, and DLF The Summit, DLF Developer has total inventories of approx Rs. 13,500 crore, in Gurgaon, which it supposes to sell over the next 5 years. JV for residential developments, DLF has also formed a separate JV with GIC in the commercial developments.  In the last year, DLF Developer sold 33.34 percent share in their rental arm DLF Cyber City Developers Ltd (DCCDL) for Rs. 9,000 crore. Now DLF's share in the JV firm DCCDL is 66.66 percent.
In few words, DLF Developer has customized its residential business model to selling residential properties or entire developments that are at an advanced stage of construction. This step will help in cutting regulatory risks and postponements outside the control of the group, make sure best price comprehension as selling off a payment plan needs reasonable pricing to early buyers.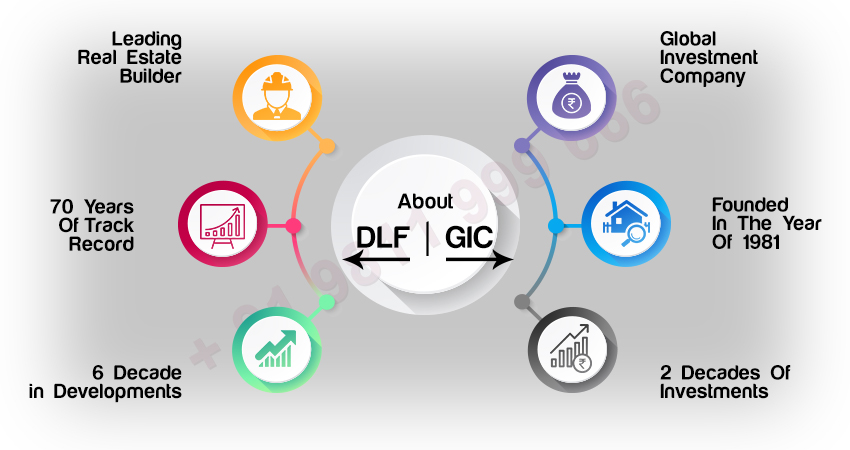 About GIC
GIC is a top global investment company with well over US$100 billion in assets under management. Founded in the year of 1981, this company supervises Singapore's foreign reserves and is exclusively positioned for the lifetime and flexible investments in different fields like real estate, equities, private equities, and income etc. This company has its control in 40 countries in the world and has been investing for 2 decades in the emerging markets. Headquartered in Singapore & 10 offices in the different cities of the world with approx 1,300 people in their workforce, makes GIC best.
About DLF Developers
DLF is not only a leading name in NCR real estate but a reputed real estate developer in India with more than 6 decades of track record in real estate development with constant growth, client satisfaction, and modernization. Now, DLF Developer has approx 288 million sq. ft. of development prospective with approx 45 million sq. ft. of developments are under construction.
This real estate developer is mainly engaged in the business of real estate development and sale of the residential projects under "development business" and the construction and leasing of commercial & retail developments comes under "Annuity Business". Mainly start their business with development 22 big colonies in Delhi just after the independence and this real estate developer has their presence in all over India.