The real estate scenario of Gurgaon is flourishing at the moment. With the rapid development & expansion of the city, sectors adjacent to Dwarka Expressway have been gaining huge popularity in the middle of home seekers. Sector 104 Gurgaon, in particular, has been magnetizing numerous buyers because of its perfect location, reasonable price residential options, and safe locality. If you've been looking for a perfect home in under construction project in Gurgaon for you and your family in this budding locality, Hero Homes New Residential Project is here to make that dream come true. Read on basic reasons why Hero Homes Sector 104 Gurgaon should be your next home.
A Highly Worthwhile Investment
There is no second thought that residential properties in the fast-developing suburban areas of Gurgaon, especially on Dwarka Expressway offer the maximum appreciation rates. Due to its close proximity to New Delhi, the demand residential apartments are very high. Even if you choose to offer the apartment for rent, you will be amazed at the rentals it can generate. From the last five years, the appreciation value of the residential property will only see an upward trend, making this is the right time to buy an apartment at Hero Realty Project Gurgaon.
Incredible Social Infrastructure
So what makes Hero Homes Gurgaon one of the most workable residential options? The answer to that would be its world class social infrastructure. There is an abundance of reputed schools, institutes, retail stores, food joints and hospitals within a few minutes radius.
An upcoming metro corridor adjacent to the Dwarka Expressway, Delhi International Airport is 15 minutes away. Popular destination within Gurgaon such as Cyber City, 5 Star Hotels, malls & entertainment hubs are 10 - 20 minutes away. Finally, there is South Delhi with its glamorous social and entertainment appeal via many cafes, restaurants, hotels and clubs as well as cultural markets. Seeing as this neighborhood is a stone's throw away from the happening locality of New Delhi, you can enjoy uninterrupted connectivity to all major hubs of the city through the Dwarka Expressway itself. Your daily commute to the office cannot get easier and better than this.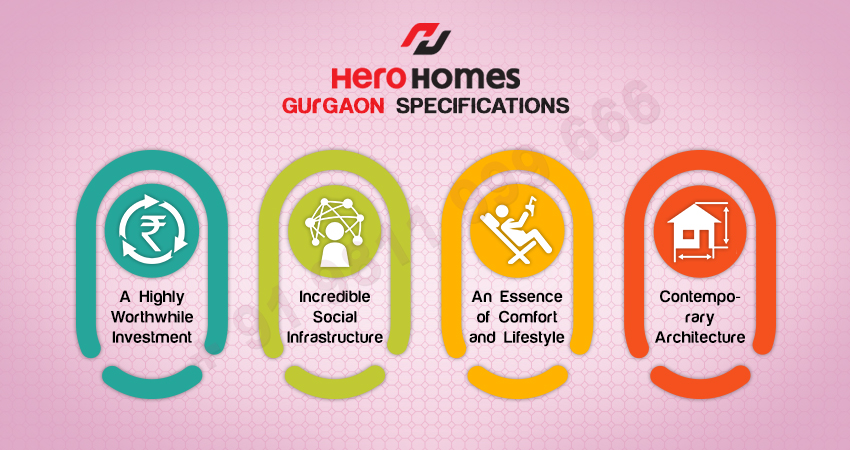 An Essence of Comfort and Lifestyle
When it comes to presenting a beautiful home experience, Hero Homes has unquestionably been the best in the market. Their competently planned internal spaces for best possible utilization are something you would be most overwhelmed with. It is a merger of luxury and comfort. The facilities and services offered in this residential project are one of the best which real estate consultants recommend home buyers to check before you buy a residential property and this real estate developer offers just that!
Contemporary Architecture
This residential project stands grandly as the tallest structure in the area with high rise towers offering 2 & 3 BHK Apartments. This residential property is nothing less of a work of art. The painstaking orientation of every tower makes sure adequate ventilation at all times and an uninterrupted, mesmerizing view of the city. Designed by highly-skilled architects, this Hero Homes New Project in Gurgaon is a personification of superior structural design. In a successful attempt to be in harmony with the Mother Nature, the property is still intact of 75% lush greenery. It is a surefire that you will straight away fall in love with it at first sight.
These exceptional reasons are testimony that Hero Homes New Project at Sector 104 Gurgaon is the perfect home for those who long for an urban standard of living amidst the peace and quiet of the suburbs, and is the best Indian Real Estate Investments option for NRI investors.